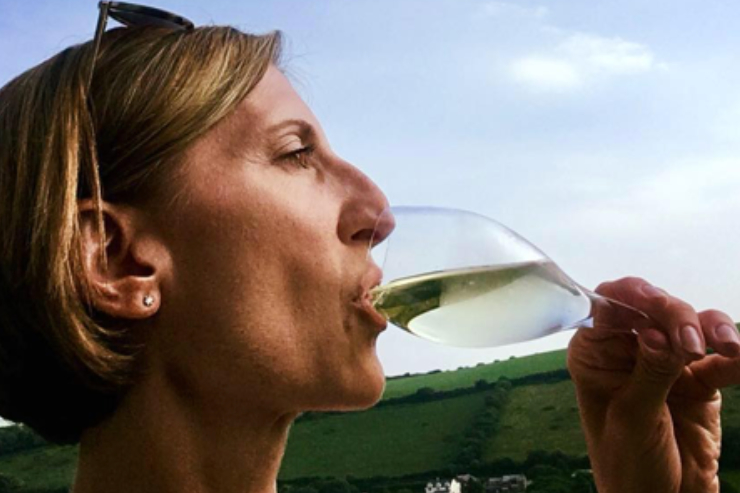 Amalias fredagsfrågor: Elizabeth Pezon
En av våra absoluta favoritfransyskor (hennes mor är iofs nordamerikansk) har ett sätt att gång på gång på gång få våra smaklökar att göra trippelsaltomortaler. Hennes vinportfölj på Spring Wines är makalös och hon dissekerar vin lika elegant som Zidane hanterar en fotboll. Idag är det Elizabeth Pezon som svarar på fredagsfrågorna och det gör hon på engelska, ett språk hon känner sig mer bekväm i.
Hello there Elizabeth, which wine would you choose to treat your…

1. …parents or in laws with?
– I never got to meet my father-in-law, but my mother-in-law will be dearly remembered as the woman whose mantra was "I'd love a glass of wine", bless her heart. If she were still with us today I would give her what she enjoyed most: a big elegant Cabernet Sauvignon from Napa Valley with its luscious velvety fruit and almost dense purple-black intensity of flavours and aromas.
When it comes to my parents, Papa has a lifelong "coup de coeur" for wines from Bordeaux's left bank while Maman is a Chinon and Fleurie fan. I have rarely met a non-wine educated person who can taste a Chinon or a Fleurie blind and tell you what soil the wine comes from! Quite amazing! Living in France means my parents essentially drink French. But they love to be challenged and are always excited when offered the possibility to taste new origins or grape varieties. Over the years I have really enjoyed making them discover wines from all four corners of the earth, from Spain, Austria, Italy to Australia, Chile and Argentina among others.
Today I would love to shake their wine world even more and introduce them to the depth and complexity of wines from Switzerland, England and Sweden. What fun it would be to share together a bottle of the aromatic Chasselas-grape from Château de Châtagneréaz Premier Grand Cru in the Canton of Vaud, Gusbourne Estate's magnificent sparkling Brut Réserve or Blanc de Blancs, or Kullabergs Vingård's superb take on the Solaris-grape with their Immelen.
2. …your beloved?
– As an Englishman worth his salt, Paul is an enthusiastic whisky and gin collector. A bottle of Scottish Macallan Rare Cask, Japanese Nikka Whisky From the Barrel, Finnish Kyrö Gin or French Citadelle Gin would sit very nicely with him. And again, as the perfect Englishman, beer is an absolutely essential part of his liquid world. He enjoys now and again a fruity Oppigård Amarillo but – thankfully for his own sake – he loves Gotland Bryggeri's Sleepy Bulldog Pale Ale and Brutal Brewing's A Ship Full of IPA India Pale Ale.
Luckily it's not all booze and beer with Paul! Wine has a special place too. When we first met it was big and bold that was the order of the day for him. Today his preference is for elegant multi-layered wines whatever the colour, style or origin. One area he is less familiar with is the Jura, so I am quite looking forward to cracking open a bottle of Trousseau or Poulsard from favourite Domaine Rolet and watch his expression as it unfurls into wonder and admiration. Can't wait!!
3. …your boss?
– I have several bosses, so I will choose the one whose palate I am enjoying re-educating…. When Leif, our general manager, came to us it was all about hipster wines, the cloudier, funkier, weirder the better. That didn't go down too well with me, so I took it upon myself to introduce him to "real" wine, and he's gladly accepted the challenge. Picpoul de Pinet from Domaine de la Majone is now a favourite of his as well as Irden Roter Veltliner from Weingut Soellner. I was also pleased to show him what a properly made natural wine and orange wine can actually taste like thanks to our partners Domaine du Causse d'Arboras and their excellent L'Autochtone or Rigal's Gros Manseng Vin Orange. I am getting there slowly but surely. There is definitely hope!
4. …yourself?
– For those who know me, the obvious (easy) answer would be champagne. But reducing my world to just one wine is something I cannot even begin to imagine. I have too many soft spots and there is so much to continue discovering. The magic of wine is just that for me: discovering, learning, sharing. I just love it when a wine speaks to me, stops me in my tracks, transports me to a painting, a piece of music or a landscape. I fall for wines with personality, those that have a sense of terroir and reflect their birthplace.
I also want them to "have the guts of the winemaker who made them" as French oenologist and taste philosopher Jacques Puisais once said. Naming anyone in particular would be unfair to all the other amazing winemakers out there both famous and unknown who are turning my world into pure pleasure. Best of all is sharing these beauties with dear wine friends, having the discussions that great wines always engender and experiencing the happiness that always comes out of something exquisite. But ok, twist my arm I'll have a magnum of Champagne Philipponnat's Clos des Goisses 1966.
5. …a dream dinner guest, who would it be, what would you treat him/her with and why?
– I was a late wine bloomer – to my French grandfather's great sadness. I was told that Papi had a fabulous wine cellar and pulled out legendary Burgundians – his soft spot – every summer for his children when the whole family got together in the South of France.
As a properly raised French child (Swedes must stop reading now…) I was always offered a droplet which I politely declined. I could kick myself today for not having said yes. So my dream guest would be Papi. To share one of his great bottles on the terrace as the sun sets down and talk about his time as an officer during World War II would really make my day. And since Pinot Noir and Chardonnay were his preferred grapes I would surprise him with those very same grapes in the hands of non-French winemakers.
I would start with Australian Timo Mayer's cool elegant Pinot Noir and follow through with Chilean Cono Sur's stunning Ocio Pinot Noir. For the whites I would go for American Evening Land Vineyards' brightly textured Summum Chardonnay and blow him away with Spanish El Coto's super elegant Chablis-like 875m Finca Carbonera Rioja Chardonnay.
What a beautiful evening that would be!
Merci dear madame Pezon and have a great weekend!