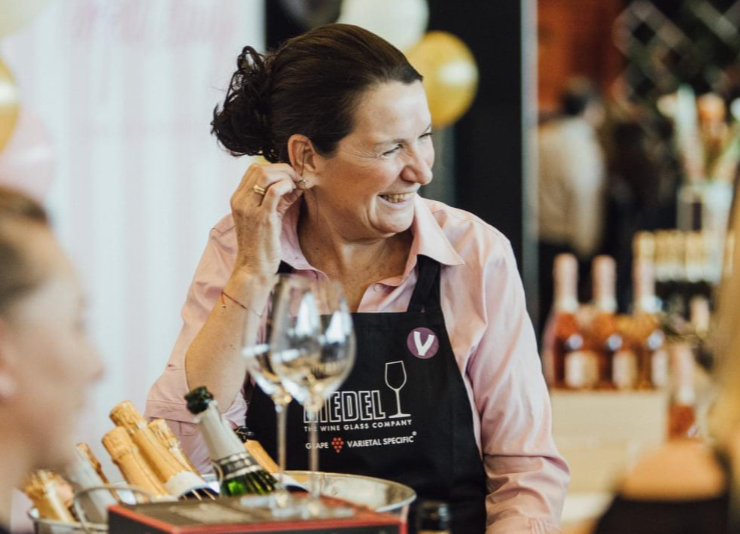 Amalias fredagsfrågor: Jane Sandström
För många i branschen är hon känd som "Madame Riedel", då hon är specialist på just Riedel och håller utbildningar i glastillverkarens fantastiska serier. Möt brittiska Jane Sandström, en kvinna lika mångfacetterad som de fantastiska mousserande vinerna som Storbritannien förser oss med.
Vilken dryck bjuder du….

1. …dina föräldrar eller svärföräldrar på?
– Dry Martins.. I can just picture the four of them elegantly sipping their drinks floating around in the clouds above.
2. …din älskade?
– Ahhh.. Anders. That would have to be a Chateau Lagrange Pomerol. The wine we drank on our first date many moons ago. We managed to get a case of '96 vintage at auction for our first born, Lydia and opened a bottle when she turned 18 and another when she turned 21. It was then I realised we should have invested in a Corovin and enjoyed the bottles a little earier.
3. …din chef?
– We tend to drink wine when we are out but she's sadly leaving the company soon so… Champagne – A magnum or two of Louis Roederer 2012 because I know my colleages would not forgive me if we didn't include them.
4. …dig själv?
– That would have to be Pinot Noir in any form. New World, Old World, Champagne, English Sparkling – I am working my way through the English Sparkling – in particular the Blanc de Noirs just now. They have come such a long way since I left the UK 30 years ago. And in a Riedel Veritas New World Pinot glass of course… it just brings out the very best in Rose bubbly.
5. …en drömgäst, vad bjuder du hen på och varför?
– Recently took part in an on-line teams tasting with Sam Neill (Ivanhoe, Jurassic Park mm) I'm in loooove (sorry Anders). He's an army kid like myself who's travelled the world, with four generations of wine growers in the family. He has a great sense of humour, thinks he can sing and makes a mean Pinot or two. I think we could entertain each other over a glass or two one evening!!
OMG! Nu blev jag minst sagt lätt avundsjuk, huuuuur coolt?! Tack Jane för att du var med och trevlig helg!